Spaghetti (Squash) and (Chicken) Bolognese Healthy Pasta Recipe
Spaghetti (Squash) and (Chicken) Bolognese Healthy Pasta Recipe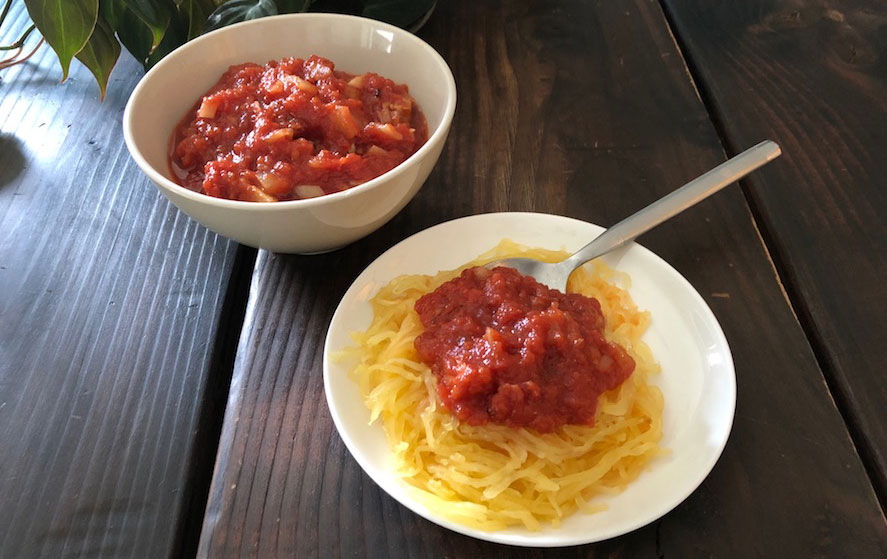 Replacing regular pasta with spaghetti squash makes a healthy, easy weeknight meal. Try this recipe by retired police officer (with type 2 diabetes) Rob and his wife Connie, profiled in this month's Accu-Chek Update.
Ingredients (serves 4):
2 medium spaghetti squashes
1 tbsp olive oil
1 large onion, diced
2 cloves garlic, crushed
1 lb. ground chicken
1 14.5-oz can crushed tomatoes
1 cup low-sodium chicken broth
1 tsp dried thyme
1 tsp dried oregano
1/4 tsp crushed red pepper flakes
Salt and pepper to taste
4 tbsp grated Parmesan cheese
Veggie-boosting options: Add diced red pepper, celery, carrots, mushrooms or chopped kale when sauteeing onions, and cook a little longer to soften.
Instructions:
To prepare squash:
Cut the spaghetti squashes in half from top (stalk end) to bottom. Scoop out seeds and loosen pulp with a spoon and discard.
Cover the cut side of one half with plastic wrap and microwave on high for 8 minutes. Repeat with three remaining pieces. Let cool a bit before unwrapping.
Once cool, scrape out the flesh of the squash with a fork, creating spaghetti-like strings, with one-half of a squash for each serving.
To prepare sauce:
Heat olive oil over medium heat in a large skillet. Add onions and sauté until translucent. Stir in crushed garlic.
Add the ground chicken and cook, breaking apart with a spoon, until no longer pink.
Add the tomatoes, chicken broth, thyme, oregano, red pepper flakes, salt and pepper.
Turn heat to low and simmer for about 20 minutes until sauce thickens and flavors come together.
Spoon sauce over spaghetti squash and top each serving with a tablespoon of grated Parmesan cheese.
Nutrition information per serving:
Calories: 293
Total fat: 15g
Saturated fat: 4g
Cholesterol: 88mg
Sodium: 300mg
Total carbohydrates: 20g
Dietary fiber: 5g
Total sugars: 9g
Protein: 24g
Interested in more food tips?

Explore recipes and more on Accu-Chek.com