Accu-Chek SmartView Test Strips
Ship your strips straight to your door.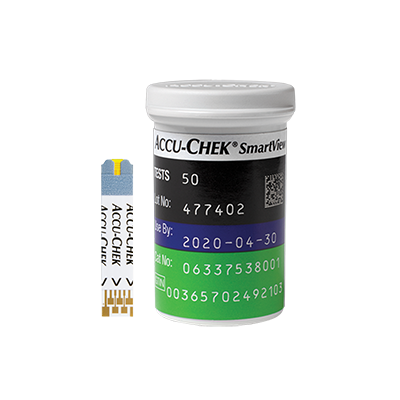 Accu-Chek SmartView Test Strips
Ship your strips straight to your door.
Features & Benefits
Easy to handle

Easy to use for people of all ages.

Tiny sample

Fills quickly with only a 0.6 μl drop of blood.
Product Specifications
Refer to the package insert that came with your test strips for the latest information on product specifications and restrictions.
Compatibility
The Accu-Chek SmartView test strips can be used with the following Accu-Chek meters:
Test time & accuracy
5 second test time with 15/20 accuracy: 95% of measured glucose results shall fall within ±15 mg/dL of lab reference value for blood glucose concentrations <75 mg/dL and within ±20% for blood glucose concentrations ≥75 mg/dL. (Data on file.)
Storage requirements
Use the test strips at temperatures between 57–104 °F.
Use the test strips between 10–80 % relative humidity. Humidity is the amount of dampness in the air.
Do not expose the test strip to heat, moisture, or humidity. Temperatures outside the requiredrange, as well as moisture and humidity, can damage the test strips and produce incorrect results.
Use the test strip immediately after removing it from the container.
Discard the test strips if they are past the Use By date printed on the test strip container. If the Use By date is missing or cannot be read, do not use the test strips.
Store the test strip container at room temperature between 36–86 °F. Do not freeze. Do not store the test strip container in rooms where the air is humid such as the kitchen, laundry room, or bathroom.
Store the test strips in their original container with the cap closed.
Close the container tightly immediately after removing a test strip to protect the test strips from humidity.
Similar Products
Explore other similar products.
Contact Us
Still need help?
Get your questions answered by an Accu-Chek Customer Care representative. Available via chat and phone 8AM-8PM (ET), Mon-Fri.
Contact Us