Accu-Chek Guide
Diabetes is complex. Your testing doesn't have to be.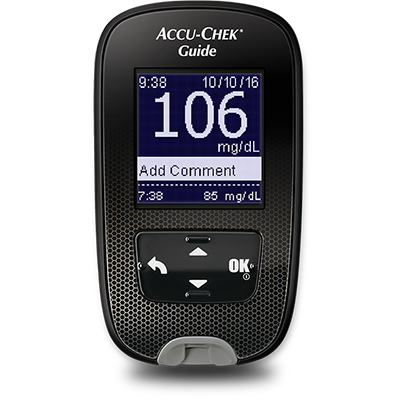 Accu-Chek Guide
Diabetes is complex. Your testing doesn't have to be.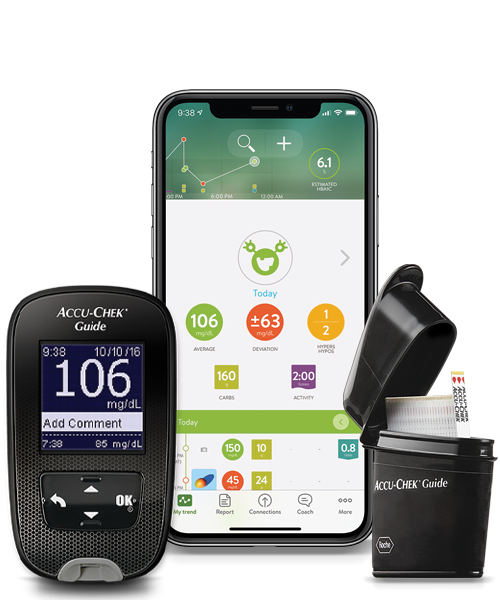 Features & Benefits
Easy-fill test strip

Place a small drop of blood anywhere along the edge.

Strip port light & backlit display

Simple to test day or night.

Strip ejector

Eject used test strips with the push of a button.

Advanced accuracy

The Accu-Chek Guide platform is Accu-Chek's most accurate ever.1

mySugr Connectivity

Take the stress out of diabetes management by pairing your Accu-Chek blood glucose meter with the mySugr app via Bluetooth®. This will automatically transfer your values so you can analyze your blood sugar in an easy-to-use dashboard right in the palm of your hand. Learn More
Product Specifications
Refer to the package insert that came with your meter for the latest information on device specifications and product restrictions.
Dimensions & Weight
3.2" x 1.9" x 0.8" (LWH)
49 g (with batteries)
Battery
Two, 3-volt coin-cell batteries (CR2032)
Accuracy & Results
Results in less than 4 seconds with 10/10 accuracy: 95% of measured glucose results shall fall within ±10 mg/dL of lab reference value for blood glucose concentrations <100 mg/dL and within 10% for blood glucose concentrations ≥100 mg/dL. (Data on file.)
Memory
720 diary records and 32 control results
Connectivity & Compatibility
Bluetooth® connectivity allows seamless integration with the mySugr app.
Similar Products
Explore other similar products.
Register your meter
Register your Accu-Chek product so we can share helpful updates, and quickly provide assistance when you need it.
Register Now
Shop your way
Shop Accu-Chek products your way, whether online or at physical retail locations.
Learn More
110/10 accuracy: 95% of measured glucose results shall fall within ±10 mg/dL of lab reference value for blood glucose concentrations <100 mg/dL and within ±10% for blood glucose concentrations ≥100 mg/dL. (Data on file.)