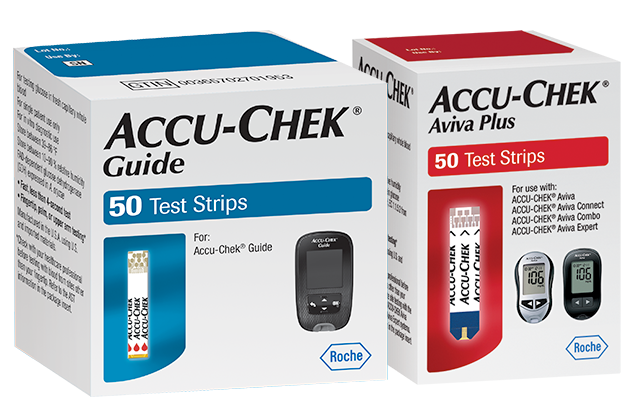 When you have diabetes, accuracy matters. Choose a meter you can trust.
In an average week, our quality control process tests a combined total of over 60,000 Accu-Chek test strips for consistent accuracy.1 With that type of commitment, why not use an Accu-Chek test strip?
If you're not currently using Accu-Chek products, get a free meter and ask your pharmacist or healthcare provider to help you switch today.
The Roche difference
Roche goes above and beyond to deliver safe, accurate and dependable products.
Ensuring quality and accuracy has always been our top priority. In fact, the manufacturing processes we employ for Accu-Chek Guide and Accu-Chek Aviva Plus test strips ensure that Accu-Chek products meet our uncompromising standards of quality. Here are a few examples:
For every lot of Accu-Chek test strips, containing millions of strips, at least 1 out of every 128 vials is tested for consistency of performance

Vials representative of the entire lot are tested a second time, with blood at a variety of glucose levels, to reflect a real-world environment

To ensure all strips we release to the market meet our high quality standards, investigation and additional testing are performed should a test strip show a reading outside specific ranges

Roche manufactures Accu-Chek Guide, Accu-Chek Aviva Connect and Accu-Chek Nano meters―and their test strips―right here in the USA2
Can any other manufacturer say this?
Covered by Medicare? Stick with the brand you trust. Click here to know your rights.
Get your free Accu-Chek meter now!
Accu-Chek Guide meter
Surprisingly simple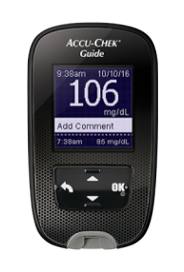 Spill-resistant SmartPack® vial
Place a small drop anywhere along the end of the strip
Strip port light for testing anytime
Learn More
Accu-Chek Aviva meter
Everyday testing—easy, fast and convenient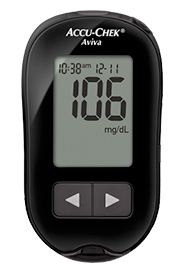 Easy-to-handle, quick-fill test strip
Accurate results in just 5 seconds
Accu-Chek Softclix lancing device
Learn More
Get the FREE meter of your choice.*
Please complete the required items in red.
URGENT MEDICAL DEVICE CORRECTION

: Accu-Chek Aviva Plus test strips
Important information regarding Accu-Chek Aviva Plus test strips with lot numbers 496947, 497291, 497296 and 497325: These affected test strips show an increased potential for strip errors prior to applying blood sample, strips not detected once inserted, or in a very limited number of cases, an inaccurate result may occur, which may not be detectable. Discontinue use of strips from these lot numbers and follow all instructions in the link below.