When life got overwhelming, Phyllisa took control of the one thing she could.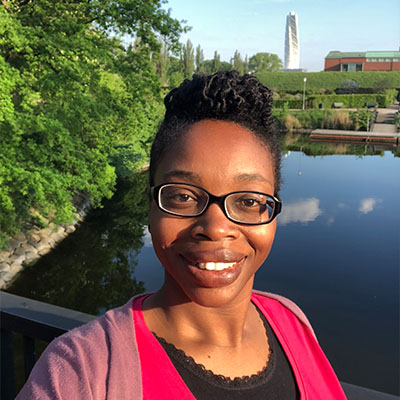 Of all the diagnosis stories we've heard, Phyllisa's is one of the most dramatic. That's one reason we're so impressed with where she's landed. The founder of Diagnosed Not Defeated talked with us about how she went from rock bottom to being a prominent advocate for people with diabetes. We hope you find her story inspiring, too.
Can you take us back to your diagnosis in 2011?
I was in my first year of my first job after getting my PhD, and I remember finally being in the place I'd dreamed about. But I started feeling fatigued. I told a colleague, and she assured me, "Oh, I feel tired, too." I was also thirsty all the time and urinating a lot, so I went to see my doctor.
And you were diagnosed then?
No. The doctor saw that I was young, worked out and had no family history of diabetes. She said my electrolytes were off, and told me to drink Gatorade. Well, after a week of Gatorade, I was nearly in a coma. It was Valentine's Day, and my husband was out of town. I drew a relaxing, "Calgon, take me away" type of bath. I don't know how long I'd passed out for, but I woke up in cold water. I went to the doctor and my blood glucose wasn't even registering on the monitor. I called my mom, who's a nurse, and she had me leave and go straight to the ER. I couldn't even walk. The ER nurse asked, "How long have you had diabetes?" I said, "I don't have diabetes." She showed me my blood glucose was 593.
How did you feel when you heard that?
I was shocked. Then the hospital gave me all these pamphlets that made things worse. They all showed people over age 55, and I was 30. They were full of stats about all the ways I was going to die. If they mentioned African Americans, it was just to say that I had a higher risk of amputation or blindness. I didn't realize it then, but this was the start of my advocacy. I began blogging in the hospital as a way to tell people what I was going through without having to repeat the story over and over. And I was becoming aware that people needed material that felt personal and was more supportive emotionally.
But that wasn't the end of your challenges that year, was it?
Two months after I was diagnosed, just as I was getting through crying every day, I lost my home in a tornado. I had this idea to cook my way through Patti LaBelle's cookbooks and blog about it, and I was on my way home to start it when my gut told me to pull into a Walmart. I didn't really need anything, but I went in and bought some peanut butter and then headed home. All of the sudden, it was raining so hard I couldn't see. The street lights were horizontal. And then it was completely clear. As I pulled up to my apartment building, I was focused on this 18-wheeler flipped over across the street. I didn't even notice that my apartment was gone.
What did you do?
I called my mom. She told me to check my blood sugar. I was trying to get her to listen—that my home was gone—and she kept telling me to test. It turned out I was having a hypo. And that's when I understood what she already knew—no matter what's going on in my world, I had to make my diabetes a priority.
How did that experience affect you?
I was already at such a low place, and this wiped the bottom out. I didn't have anything. I didn't have any shoes except for the ones I was wearing. I didn't have other clothes. I needed everything. But I saw that diabetes management was the one thing I had control over. I could test and I could eat right.
People kept saying I was blessed, but I wasn't feeling blessed. I thought about it, though, and realized how lucky I was to have listened to my gut instead of going straight home, or I'd have been in my apartment when the tornado hit. Every day, I just found one thing to be grateful for, and that helped dig me out of the dark place I was in.
Fast-forward a few years, and now you're a very active member of the diabetes online community. Can you tell us how you got there?
I started going to a weekly clinic that was sort of a support group. I was the youngest person in the room, but they embraced me and helped me stay on track. They helped me figure out how to work Southern food into a diabetes diet. And they helped me develop my voice in the midst of diabetes burnout. For me, the goal was that if someone Googled "diabetes info for black people," they would find positive information about living with diabetes. I wanted my experience to be reflected.
So what's next?
Even as an advocate, I feel the heavy weight of type 2 stigma. The diabetes online community is heavily type 1, so a person with type 2 can feel lonely there. For a long time, I wouldn't post using my full name. But I'm finally ready to push back against the type 2 stigma—I've seen how it can cause people to skip an injection or not eat when they should.
Over the years, I've used various treatment methods to manage my diabetes. There's stigma around that, too, as if you haven't done everything you can to manage your blood sugar.
So much out there tells us it's our fault. But type 2 diabetes is not my fault. It's not anyone's fault, and we need to get people to understand that.
Need diabetes management supplies?

Get strips, lancets, and more directly from Accu-Chek.