He says. She says. D says. Who gets the last word in a couple with diabetes?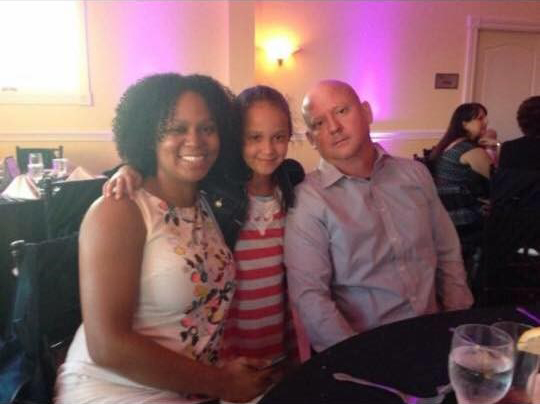 When Scott was diagnosed with type 2 diabetes a few years ago, he knew just who to talk to. After all, his wife Cherise has lived with LADA (latent autoimmune diabetes in adults) and been a powerful advocate for the diabetes community for nearly 15 years. Since it's February, we asked them about love, marriage, intimacy and diabetes.
Full disclosure: Cherise Shockley is a member of the Accu-Chek® team—you may know her as our social media marketing specialist.
So, Valentine's Day is coming up—do you do anything special?
Scott: I want Cherise to know that she's special every day, but I also do something for Valentine's Day. I just retired after 24 years in the Army, but even when I was deployed and couldn't call, I always made arrangements to make sure she had flowers on Valentine's day.
Cherise: He does give me flowers every week, and sends our daughter flowers, too. This will be the first year that he's here, but he's recently broken his foot and ankle so he's on chair rest.   
That has to make managing your blood sugar tough.
Cherise: It's been hard. Scott normally does the cooking and he can't exercise, so I'm limiting what he eats. He calls me "Kathy Bates"—you know, the crazy nurse from Misery. I remind him to check his blood sugar, but then I forget to check my own. When the person you rely on for everything is out of commission, it's a lot of pressure.
Is diabetes a big part of your marriage or is it routine now?  
Cherise: It comes up more often than you think. For example, even though we both have diabetes, our diets are different.
Scott: I'll eat anywhere, but Cherise is more selective. When she says, "Where do you want to eat, she doesn't really mean 'Where do you want to eat?'"
Cherise: He says I'm more of a frou-frou eater. But it's important, because we can both eat the same thing and his blood sugar will be perfect, but I'll go high. We play a game, trying to guess each other's blood sugar.  
Does diabetes ever get in the way?
Cherise: Not really with intimacy or anything—most of the time I wear a pump without tubes, so we don't plan ahead. I have gone low before, and I know people who often go low when they're intimate, but it generally isn't an issue for me. I don't want to sound like a cliché, but even though diabetes is a pain in the butt, we don't let it get in the way of what we want to do. We do have to think about some things, but our marriage looks like any ordinary couple's.  
Scott: Probably the only thing that's different is that we can use lows and highs as an excuse for being grumpy. Cherise used to say "You can't hold that against me because I was low." Now I can, too.
Cherise: I don't want to say it's good that Scott has gone through this, but now that he knows what a high or low feels like, and really gets it, I don't feel burned out in the same way anymore. I feel less alone.
Scott: I always tried to understand, but it's different when you actually experience it.
Some couples have trouble taking advice from one another. How about you?
Scott: Cherise is so on top of everything that it's a blessing. She's really strict, but she keeps me enlightened. It's been a positive.
Cherise: And he's the reason I use the mySugr App. I could see how excited he was about it. You see, my husband doesn't show emotion—I only have one picture of him smiling. One day, I watched him pull out a test strip, check his blood sugar and see the reading transfer to mySugr. When I heard Scott's monster giggle and saw him grin, it made me smile. I wanted to get the same reaction when I checked my blood sugar.
Sounds like you're a pretty good team.
Cherise: We have our off days, but when we said "I do," it was in sickness and in health.
Scott: What are you going to do? You've got to make life fun—even with diabetes.
Need diabetes management supplies?

Get strips, lancets, and more directly from Accu-Chek.