How does Samantha's daughter do summer? Just like any other 4-year-old (with a few extra steps).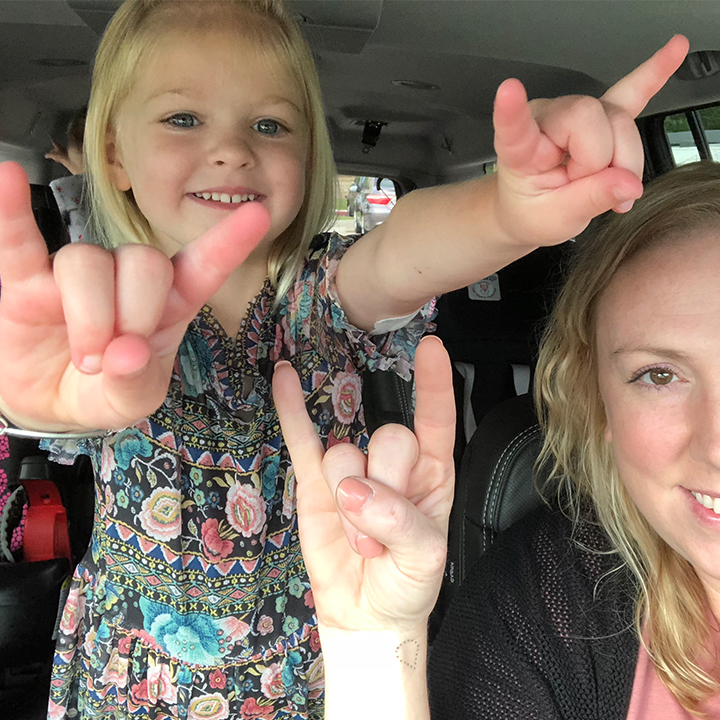 With a T1D husband, a 4-year-old diagnosed 2 years ago, a toddler who has tested positive for all diabetes-related autoantibodies and a 14-year-old son who has grown up fast as a result of it all, Samantha has learned a lot about managing diabetes without it getting in her family's way. We asked her to chat with us about what works for them.
Your husband had already been living with diabetes for nearly 20 years when your daughter was diagnosed. Did that shape your reaction to her diagnosis?
The truth is, I wasn't very involved in the diabetes community until Vivian was diagnosed. Jerry just handled his blood sugar and didn't let it get in the way.
I was a total wreck for the first few months—I wouldn't even go to the grocery store. Of course, Jerry pointed out that there's probably no better place to be if we had an issue, and I quickly realized I had to be an example for my daughter.
Now I see how scary it can be for other parents, and I want to let them know that this may not have been their choice, but their kids can live a great life. I'm grateful to have my husband as an example of that.
We know summer can be especially demanding, with a less predictable routine, higher temperatures and more activity. What do you have planned?
Vivian is not a stay-indoors, watch-TV type of kid. She'll be attending a week of diabetes day camp this year. She did a buddies camp last year, and we saw what a positive influence it was—being around kids the same age, sharing CGM and pump sites, and checking their blood sugar without all the other kids coming over to see what's happening. A friend's T1D son is a counselor there, so she encouraged me to try it. It's a great way to keep Vivian occupied with the positive side of things.
She also has tap classes and riding lessons—in the Texas heat.
How do you deal with her being active when it's so hot?
I grew up riding horses, and I saw the same spark in Vivian. We know that her blood sugar plummets in the heat, so she has a snack with some protein before her lesson to keep her numbers from dropping. A protein cookie, ice cream or yogurt are all good options for her. It's a 45-minute class, and it's pretty intense, so we keep Vivian's sensor within range in the arena. If she has to ride past me for a sip of juice, she'll do that and just keep going.
Any challenges with the CGM or pump in summer?
Vivian swims almost daily, and she was having reactions to some of the adhesives, but the one we're using now actually seems to get stickier when it's wet. Still, if something gets disconnected, I don't panic. She's a kid. I keep a close eye on her but she's also incredibly in tune with her body, even for her age. She lets me know if she gets disconnected and will tell me she's starting to feel dizzy even before her CGM has picked up on a drop in her blood sugar. It's a good reminder that we need to check ourselves from relying too much on the devices. In fact, when we talk to her about things like lows, we don't talk about the numbers. We focus on how she feels.
You're a really involved advocate for diabetes awareness and research through the Beyond Type 1 program—in fact, we found you through your #BuckOffDiabetes post, and you mentioned that your husband uses the Accu-Chek Connect system. Now it sounds like you're showing Vivian how to be an advocate, too.
She's great at telling people why she needs that sip of juice, or explaining diabetes in her 4-year-old way. She does it pretty well, actually. Sometimes I have to educate people when they try to give her a sugar-free snack—I thank them and explain that she needs insulin whether she eats lettuce or a cupcake. But she lets people know, too.
I want to be—and I want her to be—a positive influence. Social media has its downside, but it's been a big plus in our lives. I've had a lot of young adults reach out, realizing that they don't have to be down on themselves, especially if this 4-year-old is living with diabetes. You have to find the light in everything, so our family tries to lean further into the positive realm.
Need diabetes management supplies?

Get strips, lancets, and more directly from Accu-Chek.
ACCU-CHEK and ACCU-CHEK CONNECT are trademarks of Roche.