Three delicious and healthy treats that are easy to make
Three delicious and healthy treats that are easy to make
Maybe, like most of us, you took a little dive off your healthy eating plan over the holidays and want to get back on track. Fantastic! But don't think you have to give up treats and comfort foods. I want to share three recipes that are simple and quick to make; low in calories, sugar and starch; delicious; nutritious; and always in my house.
Eating well is not about doing without; it's about enjoying food that tastes good and is good for you. However, if you are used to eating store-bought sugary and fatty foods like donuts, muffins and pies, you may have to give your tastebuds a little time to adjust to the natural sweetness of these foods. Trust me, you will be glad you did.
Chia Seed Pudding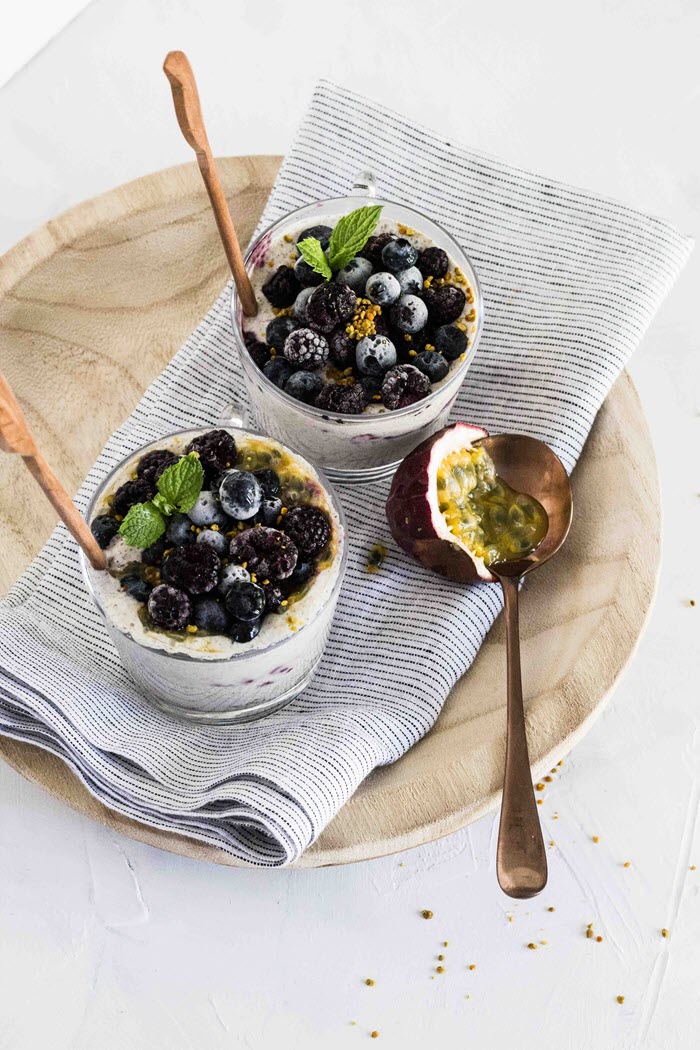 The main two ingredients in this pudding are chia seeds and coconut milk. Chia seeds contain healthy fiber, calcium and are a great source of omega 3 fatty acids. These are a super nutrient linked to many health benefits including lowering inflammation in the body and improving cardiovascular health. Coconut milk is packed with vitamins and minerals and is lactose-free.
Ingredients (4 servings, 1 cup per serving):
4 tbsp Chia Seeds
2 cups coconut milk, full or low fat
1 tsp Vanilla Extract
10 Blueberries (optional)
Small amount of Chopped Nuts (optional)
Stevia to taste
How to make it:
Put all ingredients in a two cup container. Stir frequently for 10 minutes, or the chia seeds will clump together. Put in the refrigerator to set for one hour (keeps for up to 5 days).
Variations: Add different fruits and or seeds, cocoa powder or different flavored extracts. Use almond or soy milk instead of coconut milk. For a thicker pudding, use 5 tbsp of chia seeds.
One-Minute Muffin in a Mug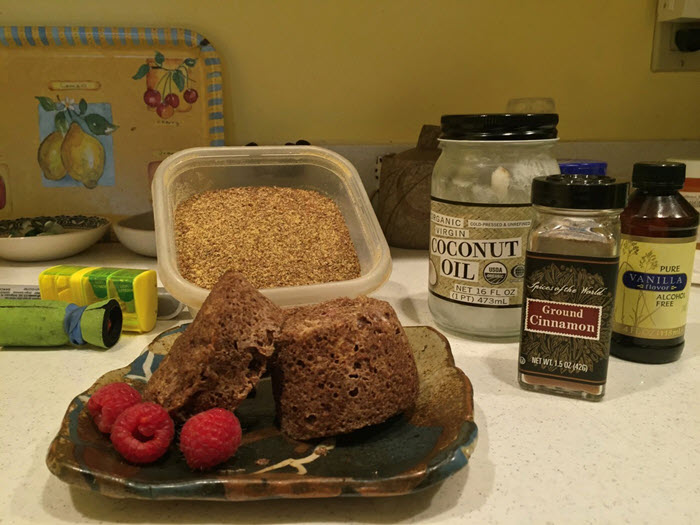 As someone who used to love muffins and bread, I discovered two great recipes that keep my love alive, and barely raise my blood sugar because they contain no sugar or flour. Flax seeds give these muffins lots of fiber, and like chia seeds, flax seeds are packed with healthy antioxidant omega 3 fatty acids.
Ingredients (1 serving):
In a coffee mug combine:
1/4 cup Ground Flax Seeds (or Flaxseed Meal)
1 tsp Cinnamon
1/2 tsp Baking Powder
Add to dry ingredients:
1 egg
1 tsp Vanilla
Stevia to taste (powder or liquid)
Few Berries (or other cut up fruit), Nuts and/or Seeds
1 tsp Butter or Coconut Oil (melted)
How to make it:
1. Stir all ingredients thoroughly so the mixture is wet throughout. Make sure to stir at the bottom and sides of the mug.
2. Cook in microwave for 1 minute
3. Remove and turn mug upside down on a plate. Muffin will slide out.
I eat my muffin with tahini. You might like a little peanut butter, cottage cheese or low-sugar jam.  If you seldom eat flax seeds, work your way up from a teaspoon or two. Also this muffin is high in fiber. Be sure to drink 8 ounces of liquid with the muffin to help the fiber move smoothly through your system.
Flourless Bread Rolls
I make these every other day because my husband, who does not have diabetes, can't get enough of them. They contain no sugar, flour or oil and are high in fiber and low in carbohydrates. Their secret blood sugar-stabilizing-ingredient is almond flour.
Ingredients (6 servings, 1 roll per serving):
1 1/4 cups Almond Flour (You can substitute almond meal. Almond flour is slightly finer and lighter than meal)
5 tbsp Ground Psyllium Husk Powder
2 tsp Baking Powder
1 tsp Sea Salt
2 tsp Cider Vinegar
1 cup Boiling Water
3 Egg Whites (or two whole eggs)
2 tsp Sesame Seeds (optional)
How to make it:
Preheat oven to 350 degrees F. Mix dry ingredients in a large bowl.
Bring water to a boil. Add water, the vinegar and egg whites (or eggs) to the bowl. Beat with a hand mixer for about 30 seconds. I beat it with a wooden spoon vigorously instead of using a mixer. Don't overmix. The consistency should be less wet and a little sticky.
Moisten your hands and scoop six uniform lumps of dough out of the bowl. Form them into small balls and place on a baking sheet either greased or lined with parchment paper.
With dry hands sprinkle sesame seeds on top (optional).
Bake on lower rack of oven for about one hour. When done, rolls will sound hollow if you tap the bottom of the roll.
These are three of my absolute favorite low-carb foods. May this be a delicious and nutritious year of happy and healthy eating for you.
Interested in more food tips?

Explore recipes and more on Accu-Chek.com