First he learned he had diabetes. Then Percy learned he loved cooking—for everyone.
First he learned he had diabetes. Then Percy learned he loved cooking—for everyone.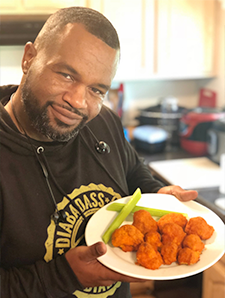 Last September, Percy was admitted to the hospital with blood glucose topping 700 mg/dL, blurred vision and the news that he had type 2 diabetes. One year later, he has a new lease on life, a new business and he's sharing his positivity with the world. This is a diabetes and weight loss story with a very happy ending.
Can you tell us about last September?
I woke up sweating one morning, and felt like I was getting the flu. I made it through the day at work, but I was still queasy. I thought I'd just go home and sleep it off. I drove the 45 minutes, and was almost home, but my legs were cramping up and my vision was blurry—something told me to go to the ER. As soon as they took my blood, they rushed me to the ICU and told me I was lucky to be alive. The nurse said I was minutes from a coma.
I was there for 5 days. They put me on long- and short-acting insulin, and the doctor said I'd be on insulin for the rest of my life.
How did you feel when you went home?
I was having anxiety attacks. I didn't know how to eat. When I left the hospital, my blood sugar was 142. I was like, "Do I need insulin? Can I eat sugar? What will happen?"
On the other hand, I appreciated everything more. I realized the blessings that I had. Colors were brighter. Music sounded better.
Sounds like you made a point of focusing on the positives.
I was asking so many questions, and doing research, and I knew it started with food. I'd been a top-tier bodybuilder in my 20s, but I'd gone through some depression, and I'd turned to food.
When I was diagnosed, I was about 300 pounds. So I quit eating red meat and pork, added turmeric and black seed oil to my diet because I'd read that they may have anti-inflammatory properties, I stopped eating fast food all the time, and I got more active. These aren't the answers for everyone, but I did my own research, and this is what works for me.
I lost 95 pounds and feel like I have the energy of a 20-year-old again. My confidence is back.
Did you already know how to cook? Because it sounds like you've gone from fast food to cooking for others in less than a year.
I used the skills I learned when I was young, but my parents grew up in the south, so there was a lot of fried chicken. I fell in love with cooking, though, and started preparing my meals in advance. I liked plating them so they looked good, and I'd share pictures on Instagram. And I'd bring my lunch into work, and my coworkers asked if I could cook for them, too. I didn't even know what to charge.
Suddenly I was prepping meals for 30 people every week. I just did it because I loved the cooking, and the plating, and the look on people's faces, but now I'm turning it into a business.
I'd love to help people with diabetes manage their blood sugar outside of medication. People say "eating well is expensive," and I tell them, "so is medication." I wasn't willing to spend $500 a month on medication. I can put that money into fresh foods and have a lot left over.
How has your diabetes management changed with all of your lifestyle changes?
I'm off medication now. That doctor didn't know it, but when he told me I'd be on insulin for the rest of my life, he sparked me. He counted me out right away. But people who know me know that you shouldn't tell me I can't do something.
What's your best advice for people who want to lose weight or make changes?
People ask me what diet I used. But I didn't "diet." That's just temporary. I made a total lifestyle change and reprogrammed myself to choose the right foods, drink more water, practice moderation and stay active. It's easy to take things for granted, but now I live every day like it's my last, and don't let the negative thoughts in.
Need diabetes management supplies?

Get strips, lancets, and more directly from Accu-Chek.