How to save money on blood glucose test strips
How to save money on blood glucose test strips
Focus on your health, not the cost, with the Accu-Chek Guide SimplePay savings program. Save on diabetes testing supplies without using insurance. Download and share this fact sheet explaining how to save money on diabetes test strips now.
Sign up to get your free Accu-Chek® Guide SimplePay savings card.1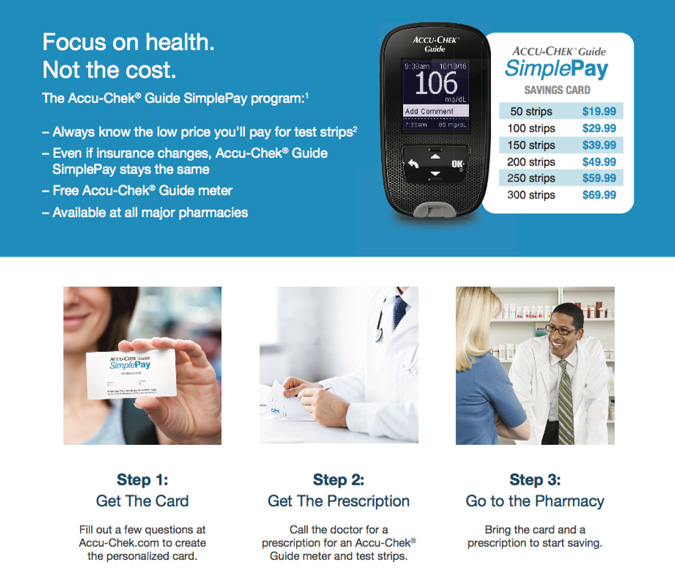 Always pay the same low price for test strips.

Sign up for the Accu-Chek® Guide SimplePay savings program.1
Focus on your health. Not the cost.
The Accu-Chek Guide SimplePay program:1
Always know the low price you'll pay for test strips2
Even if insurance changes, Accu-Chek Guide SimplePay stays the same
Free Accu-Chek Guide meter
Available at all major pharmacies
Step 1: Get the card
Fill out a few questions at www.simplepaysaves.com to create the personalized card.
Step 2: Get the prescription
Call the doctor for a prescription for an Accu-Chek Guide meter and test strips.
Step 3: Go to the pharmacy
Bring the card and a prescription to start saving.
1THE CARD IS NOT INSURANCE; IT IS A CASH DISCOUNT PROGRAM AND CANNOT BE COMBINED WITH ANY FORM OF HEALTH INSURANCE. Those insured by any government healthcare program, such as Medicare, Medicaid, the military or VA, are NOT eligible for this offer. Insurers may offer a lower cost option. 30- or 90-day Accu-Chek Guide test strip prescription required. Limit 12 vials per refill. Refills cannot be dispensed before 75% of previous days' supply have elapsed. Program may be changed or discontinued at any time.
2Discount varies based on quantity of test strips purchased. See card for details.