Managing the high cost of diabetes
Managing the high cost of diabetes
Did you know that medical costs for people with diabetes are more than twice as high as for people without diabetes? Discover the high costs of diabetes and how to manage them with this infographic. Download and share today!
For a simple way to save on test strips, sign up for the Accu-Chek® Guide SimplePay savings program today.1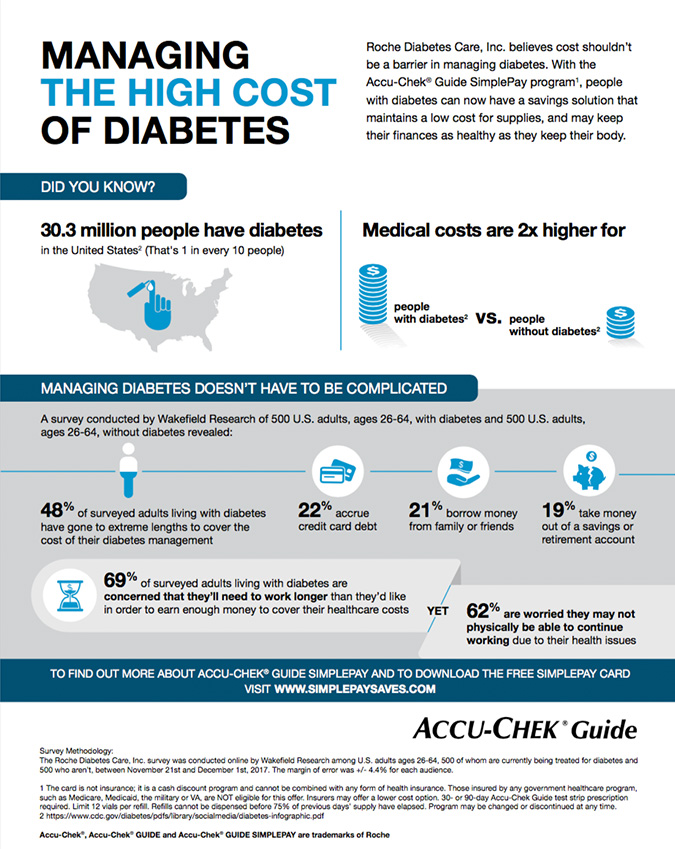 Always pay the same low price for test strips.

Sign up for the Accu-Chek® Guide SimplePay savings card.1
Managing the high cost of diabetes
Roche Diabetes Care, Inc. believes cost shouldn't be a barrier in managing diabetes. With the Accu-Chek® Guide SimplePay program1, people with diabetes can now have a savings solution that maintains a low cost for supplies, and may keep their finances as healthy as they keep their body.
Did you know?
30.3 million people have diabetes in the United States2 (that's 1 in every 10 people)
Medical costs are 2x higher for people with diabetes vs. people without diabetes2
Managing diabetes doesn't have to be complicated
A survey conducted by Wakefield Research of 500 U.S. adults, ages 26-64, with diabetes and 500 U.S. adults, ages 26-64, without diabetes revealed:
48% of surveyed adults living with diabetes have gone to extreme lengths to cover the cost of their diabetes management

22% accrue credit card debt
21% borrow money from family or friends
19% take money out of a savings or retirement account

69% of surveyed adults living with diabetes are concerned that they'll need to work longer than they'd like in order to earn enough money to cover their healthcare costs, yet 62% are worried they may not physically be able to continue working due to their health issues

To find out more about Accu-Chek Guide SimplePay and to download the free SimplePay card visit www.simplepaysaves.com
Survey Methodology: The Roche Diabetes Care, Inc. survey was conducted online by Wakefield Research among U.S. adults ages 26-64, 500 of whom are currently being treated for diabetes and 500 who aren't, between November 21st and December 1st, 2017. The margin of error was +/- 4.4% for each audience.
1THE CARD IS NOT INSURANCE; IT IS A CASH DISCOUNT PROGRAM AND CANNOT BE COMBINED WITH ANY FORM OF HEALTH INSURANCE. Those insured by any government healthcare program, such as Medicare, Medicaid, the military or VA, are NOT eligible for this offer. Insurers may offer a lower cost option. 30- or 90-day Accu-Chek Guide test strip prescription required. Limit 12 vials per refill. Refills cannot be dispensed before 75% of previous days' supply have elapsed. Program may be changed or discontinued at any time.
2https://www.cdc.gov/diabetes/pdfs/library/socialmedia/diabetes-infographic.pdf