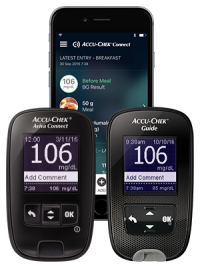 Open online portal
Create an account or view your data. Visit the Accu-Chek Connect online portal now.
Meter accuracy
Find out how Roche Diabetes Care, the maker of Accu-Chek products, ensures accurate blood glucose results—and why it's so important. Learn more.
Sharps disposal
Find out how to safely dispose of used lancets and other sharp diabetes supplies. Learn more.
How to use your meter
For detailed meter information, including user manuals, videos and frequently asked questions, visit the individual product support page.
Important Notices
URGENT MEDICAL DEVICE CORRECTION: Accu-Chek Aviva Plus test strips
Important information on Accu-Chek® Aviva Plus test strips with lot numbers 497864 and 498315: These affected test strip lots show an increased potential for the inability to dose, resulting in the temporary unavailability of blood glucose measurement. Discontinue use of strips from these lot numbers and follow all instructions in the link below.
19-003 (December 2019)