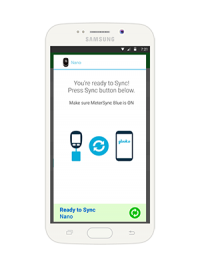 How to use the Glooko™ app for iPhone<sup>®</sup> and Android
Step 1: Subscribe to Glooko
Your annual subscription includes:
A Glooko MeterSync Blue device
The Glooko mobile app for iOS or Android
MyGlooko web app
Subscribe at the Glooko Web store now.
Note: The Accu-Chek Aviva Connect meter connects to Glooko using Bluetooth® technology. You will not need the MeterSync device. For all other Accu-Chek meters select the MeterSync Blue device.
Step 2: Download the Glooko App
Apple: Visit the iTunes® App Store
Android: Visit Google Play
To ensure that your meter and smartphone are compatible with Glooko, please visit the Glooko compatibility page.
Step 3: Connect and Get Started
For each Accu-Chek meter, the Glooko app includes a video or step-by-step tutorial to show you exactly how to transfer your data form your meter to the Glooko app.
Once your data has been loaded into Glooko, explore the app's side menu to see what reports and graphs are most valuable to you. You can also sign into my.glooko.com to see additional views.